Like me, many of you reading this will be well aware of the excitement and media storm surrounding the fundraising for the forthcoming feature length documentary, Fattitude, due for release in late 2015.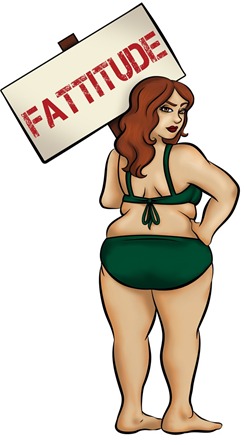 So I was excited to have the opportunity while visiting Florida to meet with Fattitude's producer, Lindsey Averill, a fat activist, women's studies scholar and body positive coach together with the co-producer and director of Fattitude, filmmaker Viridiana (Viri) Lieberman.
Three hours have seldom gone so quickly. Our discussion ranged from the portrayal of fat people in the media, to the work being done by other fat activists and, of course, the how and when of the film.
I discovered that Lindsey and Viri became friends when they met through Lindsey's husband, but what really bonded them was a their  interest in women's studies.
Viri's research on sport and gender resulted in the recent publication of her book, Sports Heroines On Film. It isn't a big leap to see how her friendship with Lindsey led to the creation of Fattitude.
When asked where the idea for a film highlighting weight bias and offering alternative views originated, they told me they felt it naturally arose from their mutual interest in these issues, combined with Lindsey searching for a suitable project. "Let's make a film," she said to Viri. Why not?
Like so many of the best ideas, their original concept is quite different to the film that is in production as I write this.
"Culturally," said Lindsey, "we are on a roller coaster of body image as portrayed in the media, and the media always need a new way to tell this story."
Describing Viri and herself as "passionate responders", they told me how the film was originally more academic as the topic of fat bias wasn't considered a mainstream topic.
So – what changed?
It was in San Francisco, which Lindsey described as a "hive of fat activism and  body acceptance" that they first interviewed Deb Burgard,PhD and Linda Bacon,PhD, key figures in the Health at Every Size® concept.
Impressed, they went on to conduct interviews with experts in the field of fat acceptance and weight bias such as Marilyn Wann and Virgie Tovar as well as other psychologists and authors. This reinforced the importance of making a more "mainstream" film – one that called for a bit more plain talking than the original, more academic version.
Fattitude will show how movies and TV shows continue to promote fat stereotypes, thus perpetuating fat prejudice. "The onslaught of pop culture is a punch in the face to (positive) body image," asserts Lindsey. But, she adds, "this is starting to change – the word 'fat' is being re-claimed".
Viri and Lindsey pointed out that you can't control your body – you are being controlled. "You may assume that your body is your business, but the reality is quite different, isn't it?" For most of us, anyway.
"The film," they told me, "mustn't show a problem without suggesting a way to fix it, so we have made sure to offer solutions". Fattitude will also show us how poor body image is not confined to women – Lindsey has seen the 'Adonis' complex increase in schools. "50% of men want to be bigger, and the other 50% want to be smaller".
Accusations, levied against them that they are fueling the obesity 'crisis' by seeming to promote what is deemed by so many to be an unhealthy body size met with this response:
"We are not just saying it's ok to be fat. We are saying you can have a healthy lifestyle at any size. Overweight doesn't always mean unhealthy."
One critic directly accused them of "being monsters for saying it's ok to be fat."
No one ever said it was going to be easy…
Lindsey and Viri are the first to use a feature length film in an attempt to "dismantle a prejudice against fat" which has become such a part of our culture, with its accompanying issues of discrimination in the work place, bullying in the school yard, poor body image and rise in eating disorders.
This prejudice influences the larger actresses in Hollywood whom they approached and who, they believe, declined to be interviewed or associated with the project for fear of being seen as a fat activist and therefore pigeon-holed.
I was intrigued by the film's title, Fattitude, and was told that the choice of title is deliberately provocative – something they discovered when the backlash set in after the Kickstarter campaign was launched for funding the film.
They didn't expect such a heated response. "We saw, very quickly, that it had nothing to do with the film." But death and rape threats combined with the sinister 'I know where you live' (and these people did) had the opposite effect – it helped to fuel their passion to do the project.
The Kickstarter raised the money and clearly showed there is an audience for a film which highlights weight discrimination as well as offering a body positive alternative to what I call our 'one-size fits-all' culture.
However, as the film has become more mainstream it has also become apparent that the original budget is insufficient. As Viri explained, "polish costs money".
Currently Lindsey and Viri will launch Fattitude's new website in January and are also working to attract further funding.
Be assured I will keep  in contact with Fattitude's film makers. In a future post I aim to address the lack of educational resources on the subject of fat bias and body acceptance available to educators (such as myself).
As Lindsey and Viri told me, "Every body deserves respect".  These two talented, inspirational film-makers are matching their actions to their words.
How can you support Lindsey and Viri's work towards body acceptance?
Watch the trailers at fattitudethemovie.com and sign up for email updates.
Make a donation. Contact Lindsey via fattitudethemovie@gmail.com
'Like' their Facebook page located at facebook.com/fattitudethemovie.
Any ideas for fundraising? Anyone you think Lindsey and Viri should contact? Email them via fattitudethemovie@gmail.com.
Spread the message via your social media streams, i.e. Twitter, Facebook, Pinterest, Instagram, blogs,etc,etc.
It's a team effort – what do you think?