Like me, many of you reading this will be well aware of the excitement and media storm surrounding the fundraising for the forthcoming feature length documentary, Fattitude, due for release in late 2015.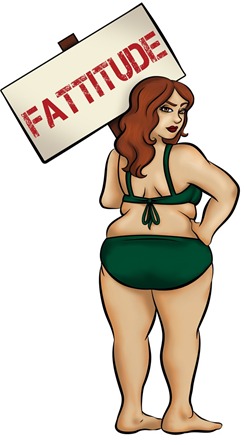 So I was excited to have the opportunity while visiting Florida to meet with Fattitude's producer, Lindsey Averill, a fat activist, women's studies scholar and body positive coach together with the co-producer and director of Fattitude, filmmaker Viridiana (Viri) Lieberman.
Three hours have seldom gone so quickly. Our discussion ranged from the portrayal of fat people in the media, to the work being done by other fat activists and, of course, the how and when of the film.
I discovered that Lindsey and Viri became friends when they met through Lindsey's husband, but what really bonded them was a their interest in women's studies.
Viri's research on sport and gender resulted in the recent publication of her book, Sports Heroines On Film. It isn't a big leap to see how her friendship with Lindsey led to the creation of Fattitude.
When asked where the idea for a film highlighting weight bias and offering alternative views originated, they told me they felt it naturally arose from their mutual interest in these issues, combined with Lindsey searching for a suitable project. "Let's make a film," she said to Viri. Why not?
Like so many of the best ideas, their original concept is quite different to the film that is in production as I write this.
"Culturally," said Lindsey, "we are on a roller coaster of body image as portrayed in the media, and the media always need a new way to …continue reading Interview: 'Fattitude' has the right attitude!